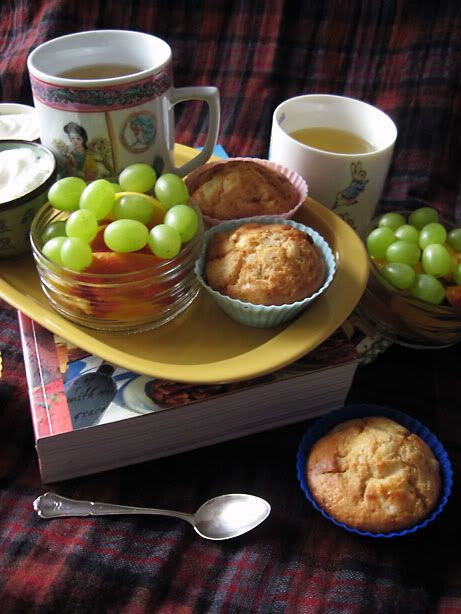 Apple & cinnamon muffins, yogurt plain, chamomile tea (Essi had green with rose), nectarine with grapes.
Dearest readers, I know you're out there (Blogger stats told me). Commenting is very much encouraged. You don't need to sign in on blogger to comment, you can just choose anonymous when leaving a comment (yet, it is encouraged to write your name in the end of your comment as well). Just remember the word verification test to proof you're not a spam robot. I tested it today and it ought to work just fine. So, go crazy! Leave a comment! It's sexy.
Edit 21.19
: Dearest readers, it has come to my attention that the comments just won't play nicely with some of you no matter how you plead them, so I took the matter into my own hands, fiddled some settings and it should work better now. When you click on the comments it should open up a little new window just for comments and show the word verification and all in the same page. If not, just try and reload the front page first. Give it a try! If further problems occur, please let me know! So sorry for all the inconvenience.