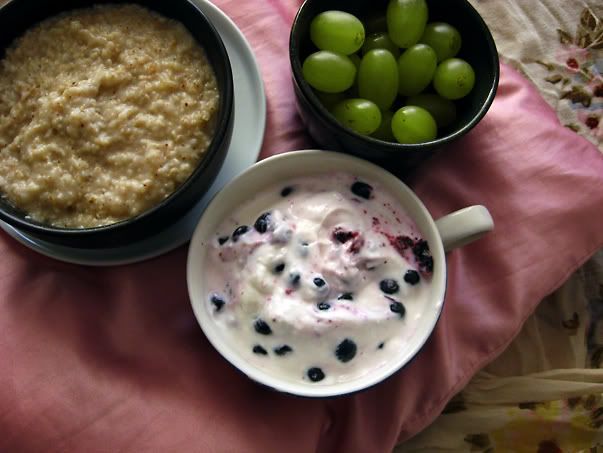 Hey guys, I just realized this morning that what I call porridge is actually called oat meal, right? Exactly! So, today I had
oat meal
with cinnamon and honey, grapes and yogurt with blueberries (I know, they're really
bilberries
, but I'll just call them blueberries to avoid confusion).
Also hey look who popped in to read a book in my bedroom yesterday! Why, if it isn't miss Jolie herself!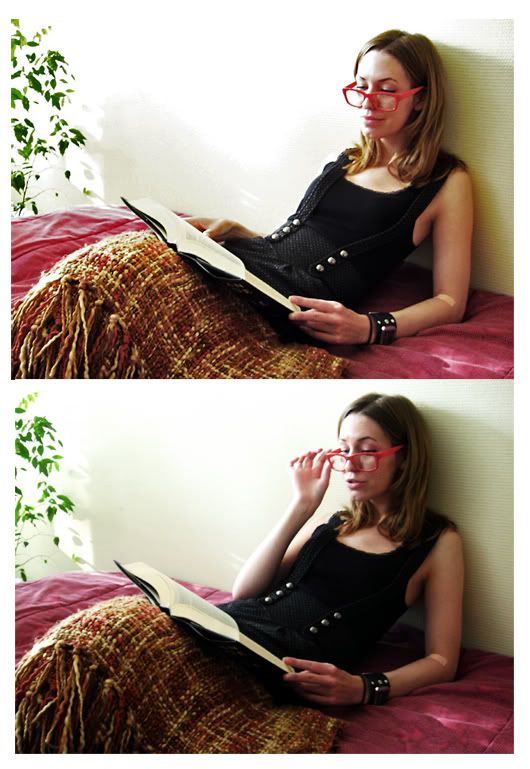 Actually no, it isn't. It's Fanni. Thank heavens it is, in fact. No disrespect to Angelina here, but I much rather have my dear wife visit me to spend the day with.
Oh, what I wouldn't give right now to wake up a few hours later, when it would be a sensible hour to wake up in that time zone, in that huge fat bed at that Best Western hotel in Maryland I was a few years back. Stroll down to have breakfast in that huge breakfast hall downstairs, make some waffles or toast a bagel, wrap up a little scrambled egg sandwich to be eaten later on. Then head out for a walk through the borough, heading to the subway and be on my way to D.C. Let me paint you a word picture. Try to imagine a crisp, bright as ever november day in Maryland. Leaves all multicolored and the smell of autumn lingering in the air as you shuffle your way through huge buildups of leaves on the sidewalk. There are newspapers on people's lawns, all wrapped up and yet to be collected for breakfast in the big, oh so american homes that you pass by. It's rather quiet here in the borough, aside from an occasional leaf blower or someone raking up the leaves on big piles, just to redo it all the following day after wind has blown it all over again during the day. While crossing a Huge wide highway, at least eight lanes side by side, you stop on the overpass for a moment just to let your eyes rest on the people in their cars on their way to work. Finally you reach the subway and are on your way to the city. Luckily you brought a book, the trip takes at least half an hour!
Almost at any given minute I miss New York City more than I can bare. But these sunny autumn days just bring D.C. in my mind so vividly.
On a not-so-completely other note, please, life, give me a break. Please give me a job so I can safe up some money for a nice long trip in the states and all over. Have I not had enough setbacks already?