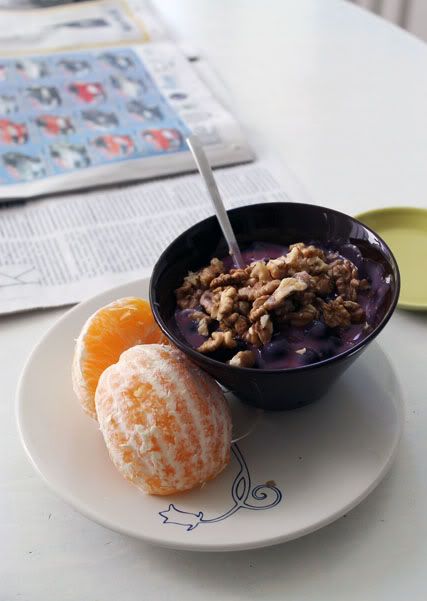 An orange, müesli with berry oat yogurt and black currants and walnuts. Not so sick anymore! Weird sickness it was, too.
Yes, I'm sorry I've been away for so long, I didn't plan on leaving you for over two weeks. I just really wanted to get something together for the 200th, but something always came up and it just didn't happen. Here's what's hot and what's not to keep you a bit more up to date.
What's hot:
We, me and Sanna, bought plane tickets to New York yesterday. The trip is going to take place in June and I'm at the same time so excited that I have hard time concentrating on ANYTHING at all and get all giddy and giggly in the middle of breakfast and can't stop grinning, and at the same time my brain just won't eat the information that we're really, Really going there. That we really have the tickets and accommodation and all. Gladly, there's still time to get it before the trip! If you happen to know some new hot spot in the city, please let me know in the comments section!
This warm and fussy feeling that was left from the best hamburger I've ever eaten that I just happened to have for dinner today. Rrrrrrrrrmmmmmmmmmm.
My job! Yay, still having fun!
Finding alternatives for cow's milk. Recently, I've come across so many articles about the bad sides of cow's milk and the industry, that I decided to try my best to avoid it. I'm not going to go all absolute about it, it's just not me, but when I have a choice I'm going to make the better one.
Sun! Oh you glorious sun, we've been missing you so!
Lush! I ordered Herbalism a week ago and it rocks.

What's not:
Cold weather. I'd like to have spring already, thank you.
Milk. It's everywhere. Just try and live without milk in a country where everyone thinks milk is the bee's knees. It's.. rather challenging at times.
Essi's big exams that are coming up. So much stress, poor baby!
Not being able to sleep very well for some reason.
Being sick.
Being always so late with posting.